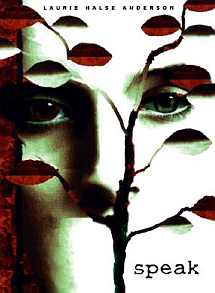 Title:
Speak
Author:
Laurie Halse Anderson
Rating:

C

From the Back of the Book
Melinda Sordino busted an end-of-summer party by calling the cops, so her old friends won't talk to her, and people she doesn't know hate her from a distance. The safest place to be is alone, inside her head. But even that's not safe. Because there is something she's trying not to think about, something about the night of the party that, if she let it in, would blow her carefully constructed disguise to smithereens. And then she would have to speak the truth.
Review
I was very excited about reading this book. I had read several great reviews and I always enjoy reading books that have a psychological background.
Selective mutism, which is what I assumed Melinda had, always fascinates me. From the time I started reading, it was a very quick and easy read, but I must say that I was very disappointed. I did not understand the plot line at all. It jumped from her relationship with others at school, to her family issues, to friends and boys, and so on and so forth. I did not think that it really had a purpose, it seemed to me that it was more of Melinda writing in her diary over the course of a year. I knew that the main issue was supposed to be about something that happened at a party, but it did not seem to take priority in the plot of the book. Melinda also did speak in the book, just not very much, which I thought kind of ruined part of the reason why I wanted to read the book in the first place. It was just a very strange, confusing, slightly boring read for me.
I have read some other things that Anderson has written, and I have generally enjoyed all of them, this one however just did not do it for me. I know that others have read it and enjoyed it. Comment below if you have read it and had other ideas about the book. I would really love to hear!!
Thank you to the people that have commented on my other posts. It really makes me smile to see them!
Happy reading!
Bookaholic