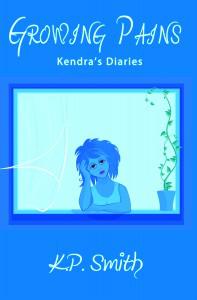 Title:
Growing Pains (Kendra's Diaries #1)
Author: K.P. Smith
Source: Sent for Review by Author
Grade: A-
Summery from Amazon
Growing Pains; Kendras Dairies is the first book in the series chronicling the journey of Kendra Foster from adolescence to adulthood. I aspire to encourage, entertain, and inspire young adults. Life has its ups and downs, its bumps and its bruises. But with perseverance, determination, and faith you can be all you were born to be. Never Give Up.
Review
Growing Pains follows Kendra and her family during Kendra's 8th grade school year. This year presents many challenges for Kendra. Her parents fight constantly, Kendra must pick a high school, and Kendra is trying out for cheerleading after a disastrous for tryout in 6th grade. She also must navigate through making and keeping friends and a possible new boyfriend, all while dealing with her pesky little sister Patrice.
I am a college graduate, so it has been awhile since I have been in 8th grade. I went to a small parochial school, just like Kendra so I could relate to the closeness she feels with her classmates and school. My parents were not divorced, but this book shows me how difficult it is for a child to be in the midst of her parents separating. I think this is a great book for anyone in middle school, especially girls. Middle school girls will find it easy to relate to Kendra and the triumphs and trials she goes through. Unlike a lot of characters in middle grade books, Kendra is not the most popular girl with the perfect life. She worries about her clothes, grades, impressing her crush, and keeping old friends while making new friends. It was very refreshing to read! I gave it an A- because it is a fun, relateable, read, but does not transition between scenes very well. The next book in the series will be out in the fall of 2012, and I definitely plan on checking it out! You can learn more about the series and author by visiting the Kendra's Diaries website!
*I was sent this book for review. All opinions are my own and not influenced by others.