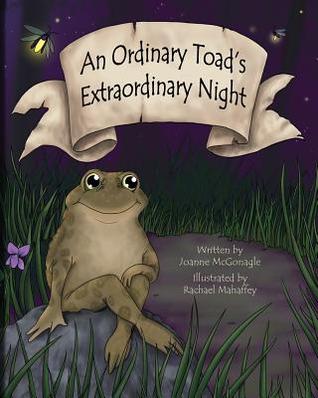 Title:
An Ordinary Toad's Extraordinary Night
Author: Joanne McGonagle
Grade B+
Synopsis from the back of the book
An Ordinary Toad's Extraordinary Night is the story of a young toad named Andrew, pondering whether his life would be more interesting had he been hatched a frog. Andrew embarks on his first solo hop to ask his grandpa some questions about what it means to be an amphibian. The story is blended with factual information that compares and contrasts the similarities and differences among toads and frogs. A young reader's curiosity will be piqued as they consider the unique attributes of the individual creatures that make up a species, perhaps sparking the light of conservation in their hearts and minds.
Review
My first impression of the book was that it was beautifully illustrated. The pictures grab the reader's attention and really make the book pleasing to read. I did enjoy the book but I thought it stuffed a lot of information into such a small book. There was so much information about the difference between toads and frogs, that at some points I was overwhelmed. I, as an adult reader, enjoyed learning about the difference between the two species but I think children, especially younger children, would eventually lose interest because of the massive amounts of information and scientific terms. As a teacher I think this book would be an awesome addition to an upper elementary science curriculum. It is very factual, but presents the information mostly in a interesting way. Children can learn new vocabulary through context and really come to understand what makes frogs and toads different from each other. I really enjoyed the story of how Andrew learned the importance and the acceptance of being unique. Everyone is special and important no matter what they may look like. In a looks obsessed culture, this is a very relevant theme.
Happy Reading!
Bookaholic