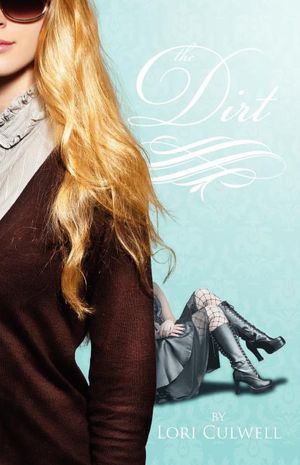 Title:
The Dirt
Author: Lori Culwell
Grade: A+
This book was sent to me for review.
Synopsis from the back of the book:
Lucy Whitley cannot wait to get out of Palm Desert. It is not a place for a frizzy-haired science nerd. Particularly when her fashion obsessed older sister Sloane is the head of a clique of pretty girls who rule the school-- and practically the whole town.
Fortunately life is about to change forever. Lucy's dad is getting re-married, and then she can transfer to a boarding school in Connecticut, escaping all the mean girls and the endless whispers about the Whitley family scandal. Everything is going to be perfect-- as long as the wedding goes smoothly.
Review:
I absolutely loved this book!! It is a Hollywood drama/suspense/chick lit novel all rolled in to one perfect blend of a book! Lucy lives with her dad and two sisters. Her mom and sister Megan disappeared years ago and have not been heard of since. Lucy can not wait to move out of her family's drama filled house and attend a boarding school hundreds of miles away. When Lucy starts to feel that everything is falling into place, a girl that claims to by Megan, Lucy's lost sister, appears at Lucy's dads wedding. Everyone's future plans get thrown out of the window.
I was hooked as soon as I read the back cover. It was a quick and easy read that kept me wanting more! Every character in the book adds a fun and different part to the story line. They are all so different, but work together to create a great read! Lucy as the only normal sister is someone that I could really relate to. She is a typically teenager who just wants a normal family and daily life. The book kept me hooked until the very last page and I wanted the book to continue on. I can definitly see the possibility for a series about the Whitley family! I recommend this book for any young adult/chick lit fan out there and for those who do not normally enjoy young adult fiction. This is a book I think anyone could enjoy!
Happy reading!
Bookaholic
*I was sent this book for review and my opinions are my own and not influenced by the author or publisher.